Ingredients
Omez Beauty Products uses only natural ingredients, sourced from the very heart of Africa, where women of Chad have been using these ingredients for hair care for centuries.
Chebe powder
Chebe powder, traditionally used in Chad, a country in Africa, is a mixture of cherry seeds, cloves, lavender crotons, stone scent and resin tree sap. It has been traditionally used by women in Chad and it helps them maintain long waist length natural hair.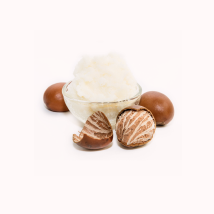 Shea butter
is a fat extracted from the nut of the African shea tree. In some African countries such as Benin, shea butter is used for hairdressing. It is widely used in cosmetics as a moisturizer, salve or lotion.

Cocoa butter
Cocoa butter is high in fatty acids, which is why it's often touted for its ability to hydrate and nourish the skin and improve elasticity. The fat in cocoa butter forms a protective barrier over skin to hold in moisture.

Sea buckthorn oil
Sea Buckthorn Oil helps stimulate hair growth while improving the overall health of your hair and skin. This nourishing oil can help support scalp health. If you have a dry, flaky scalp you may want to try out these products!
Hemp seed oil
protecting hair from damage by helping to prevent the penetration of certain substances into hair follicles, prevent hair breakage by enhancing lubrication of the shaft, and prevent hair breakage by reducing the combing force of wet hair.
Rosemary oil
If you want to improve both hair thickness and hair growth, rosemary oil is a great choice thanks to its ability to improve cellular generation. According to one study , rosemary oil performed as well as minoxidil, a common hair growth treatment.

Kakar oil
is a mixture formulated to protect hair from breakage. Hair often breaks due to being brittle from lack of moisture. Karkar oil is used to trap moisture within the hair strands and allows for the hair to protect itself from breakage. Karkar oil makes length retention possible.

Jamaican black castor oil
Our most popular product is the Jamaican Black Castor Oil. It is a powerful and proven hair conditioner, but it is also traditionally used for: aches and pains

Blends of aryuvedic herbs
Ayurvedic herbal tea blends teas tie to each of the doshas Kapha, Vata, and Pitta. The elements of these doshas are Air, Fire, and Earth.

Jojoba oil
Jojoba is applied directly to the skin for acne, psoriasis, sunburn, and chapped skin. It is also used topically to encourage the regrowth of hair in people who are balding. In manufacturing, jojoba is used as an ingredient in shampoo; lipstick; makeup; cleansing products;

Vitamin e oil
Vitamin E oil is an ingredient in many skincare products; especially those that claim to have anti-aging benefits. Vitamin E supplements may prevent coronary heart disease, support immune function, prevent inflammation, promote eye health, and lower the risk of cancer.

Sunflower and other essential oils
The vitamin E in sunflower oil has antioxidants that help with premature aging and wrinkles, keeping your skin looking young and fresh. Sunflower oil also contains linoleic acid, which helps your skin retain moisture so it becomes less dry. ... In addition, linoleic acid helps to protect the face from bacteria and germs.